Are these short stories or a novel? Nobody seems quite sure what it is, so I think it would be best to just categorise under bloody good writing. Reflecting the rhythm of idle thoughts, these tales – or tale – of a young woman living alone in a house in Ireland is a peaceful read, not a difficult read, but all the more thought-provoking for it. Strange, new, beautiful.
My Documents by Alejandro Zambra
The title of this collection refers, of course, to the name of the file on a personal computer and, fittingly, this is a selection of what feel like quite autobiographical stories. Computers play a part in a number of these stories too – for example one tells the story of the human protagonist but only over the lifespan of a certain computer he owned. Zambra writes with a confident, unshowy style which leaves you wondering quite why you are enjoying reading him, though it is clear you are enjoying reading him – maybe because of his honesty and his insight, little poetic touches.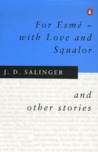 For Esme—With Love and Squalor, and Other Stories by J.D. Salinger
I read a lot of Salinger this summer – pretty much everything that isn't 'The Catcher In The Rye' – and found that pretty much all of it is pretty great. My favourite of his short novels about the fictional Glass family was 'Raise High The Roofbeam, Carpenters', in which Buddy Glass finds himself in an awkward situation at a wedding gone wrong.
The first story in this collection is 'A Perfect Day For Bananafish', which features Seymour Glass – subject of much hero worship in the other Glass stories. This seems to be Salinger's most famous short piece, but the two I want to concentrate on are the titular piece and one called 'Just Before The War With The Eskimos.'
The appeal of that second story is difficult to explain – it revolves around some chance encounters which Salinger shows us, and whilst not a lot happens, so much is hinted at. It feels like we are seeing just a small portion of these characters' lives and that the references they make and the things that seem important to them are intriguing.
The story 'For Esme – With Love And Squalor' is a miniature masterpiece in two parts. In the first, an American soldier stationed in England during the war is engaged in conversation by a teenage girl, for whom he promises to write a story. As they part, she tells him: "I hope you return from the war with all your faculties intact."
Inevitably, when we catch up with the narrator again, the war is over but his faculties are not intact. This, he explains, is the squalid part of the story. Between the two halves, it encapsulates so much of Salingers work – gentle encounters, with a sense that crisis always awaits around the corner.
The Not-Dead and The Saved and Other Stories by Kate Clanchy
For reasons that must only be commercial, novels are expected to last around 250-300 pages and so short story collections seem to have to be about the same size, which is ridiculous and a shame because they should just be as long as they need to be. And if this had been about 150 pages long it would have been perfect because there are that many fantastic pieces of writing here, but then there's some that just aren't as good and it distracts from the great stuff. The titular piece, which won the BBC National Short Story Award, is a poetic, intense, funny tale of life, illness and death, and stands out as a highlight.
What We Talk About When We Talk About Love by Raymond Carver
I kept getting told to read Carver and eventually I gave in and got a copy of What We Talk About When We Talk About Love. This is a set of spare, terse little encounters which nevertheless do not have the air of careful cultivation you might expect from something so minimal. These moments feel very real – none of the characters are happy, quite, they are just trying to get by, none of the endings are happy either, but then they don't feel like endings. Clearly life will continue once the story ends.
No One Belongs Here More Than You by Miranda July
These stories are bright, funny, weird – like tales told by a high school friend when you catch up with her years later and she is just as odd as she ever was. E.g. 'Majesty', in which the protagonist's dream of an encounter with Prince William has a profound effect on her. She describes, "that day I carried the dream around like a full glass of water, moving gracefully so I would not lose any of it." She imagines that the best way to meet him would be through her role as an earthquake safety expert. "Last year a little boy asked me what made me the expert, and I was honest with him. I told him I was more afraid of earthquakes than any person I know."